Enjoy our tips to Aarhus and to experiences you feel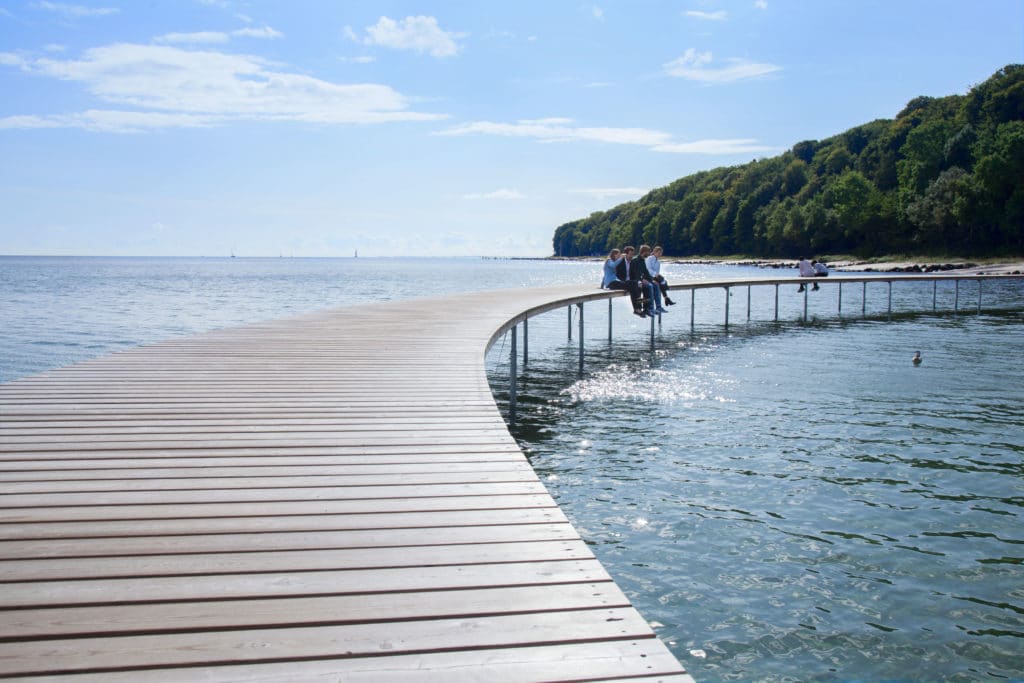 Both a bathing pier and a piece of art, this infinite bridge is an Aarhus favorite in the summer. Originally, the bridge was a part of the art event Sculpture by the Sea in 2015 but we loved it so much that we made it a permanent piece of art. Take a walk, enjoy the beautiful nature surrounding it, jump into the water.
The bridge is dismantled for the winter, but open from April to October.
Pro tip: If your kids are getting on your nerves, let them compete with one another about getting to the end first. Then you will have some peace and quiet for a while.
DOKK1
This spaceship like building right across from Hotel Atlantic is a culture and multimedia house. It opened in 2015 (we watched it being born from over here) and contains the Central Library, concerts halls and stages, a café, play areas for children and lounge areas. Designed by well-known Danish architectural firm Schmidt Hammer Lassen, the building is worth a visit because of the modern and futuristic architecture and the great view.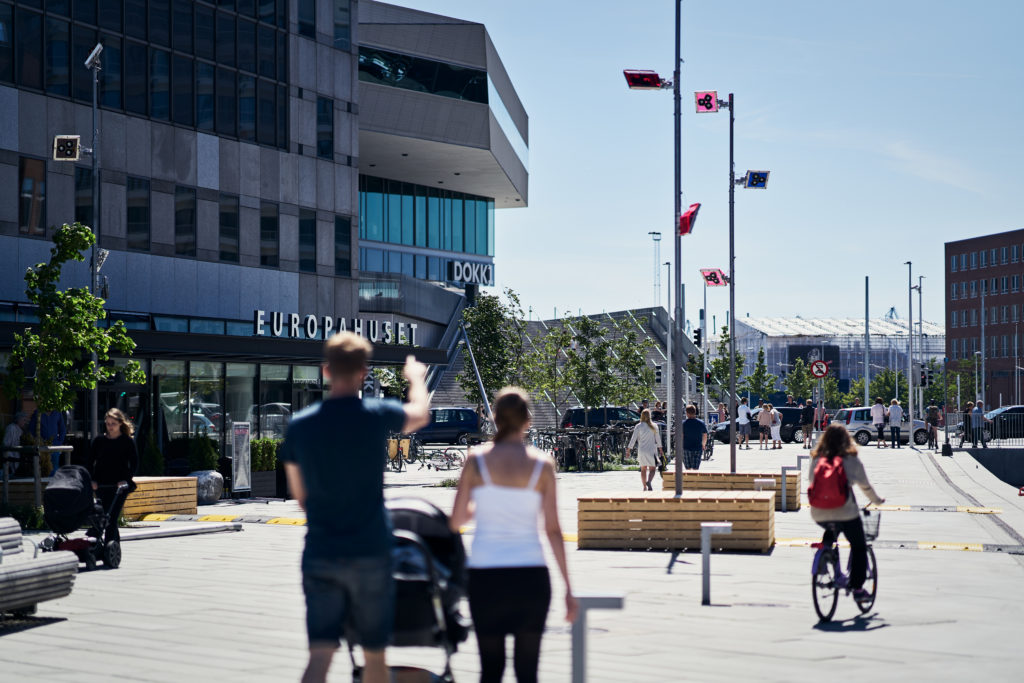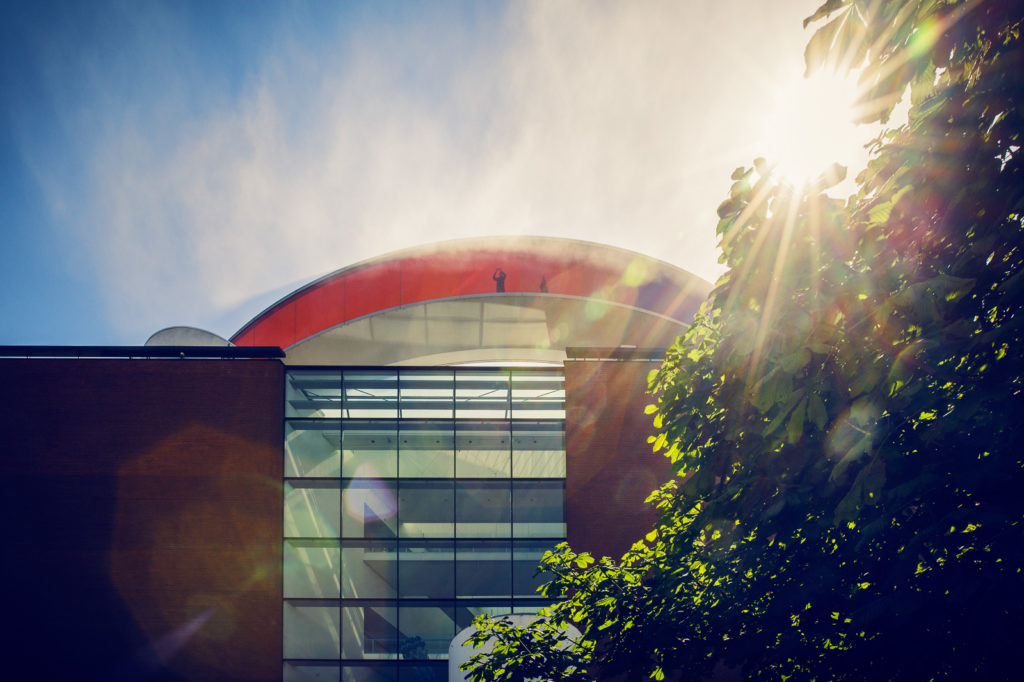 ARoS
Aarhus' museum of modern art (one of the largest in Northern Europe – cool, right?). But not the boring kind, we promise. Explore the 10 floors of art from the Danish Golden Age to international contemporary art. As a cherry on top, you will find Your Rainbow Panorama by artist Olafur Eliasson, where you can walk in the 150 meter long circular skywalk with windows in the colors of the rainbow while looking out on Aarhus.
The Latin Quarter
This is some really old stuff. The narrow and cobblestoned streets in the Latin Quarter date back to the 14th century! Now, you can find lots of small and unique shops and some of the best cafes and restaurants – eat lunch at Mefisto and get coffee from La Cabra Coffee.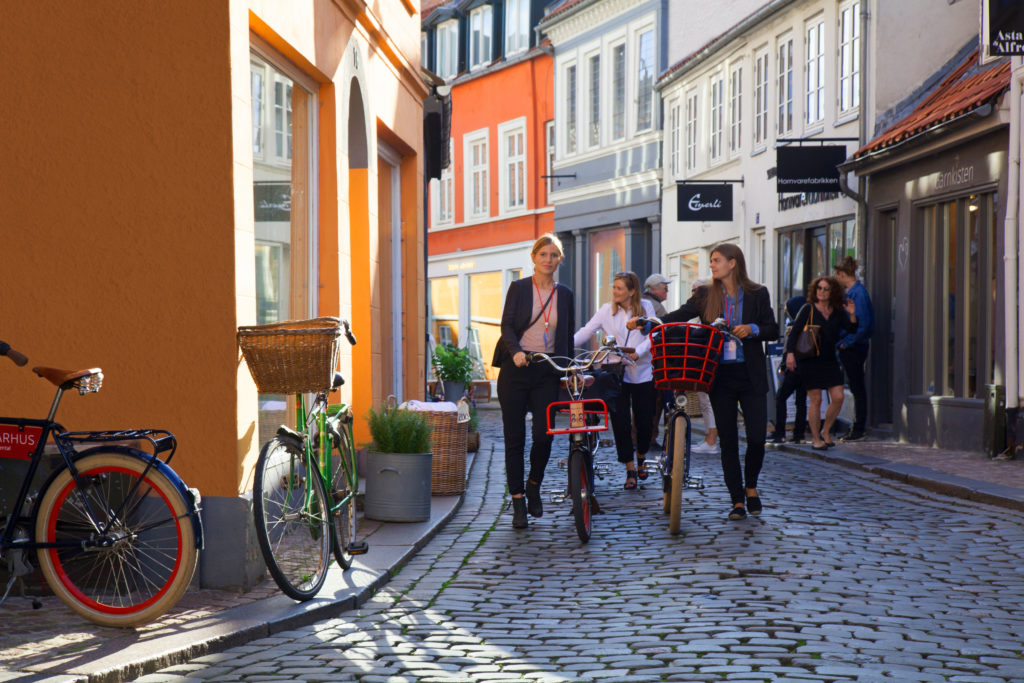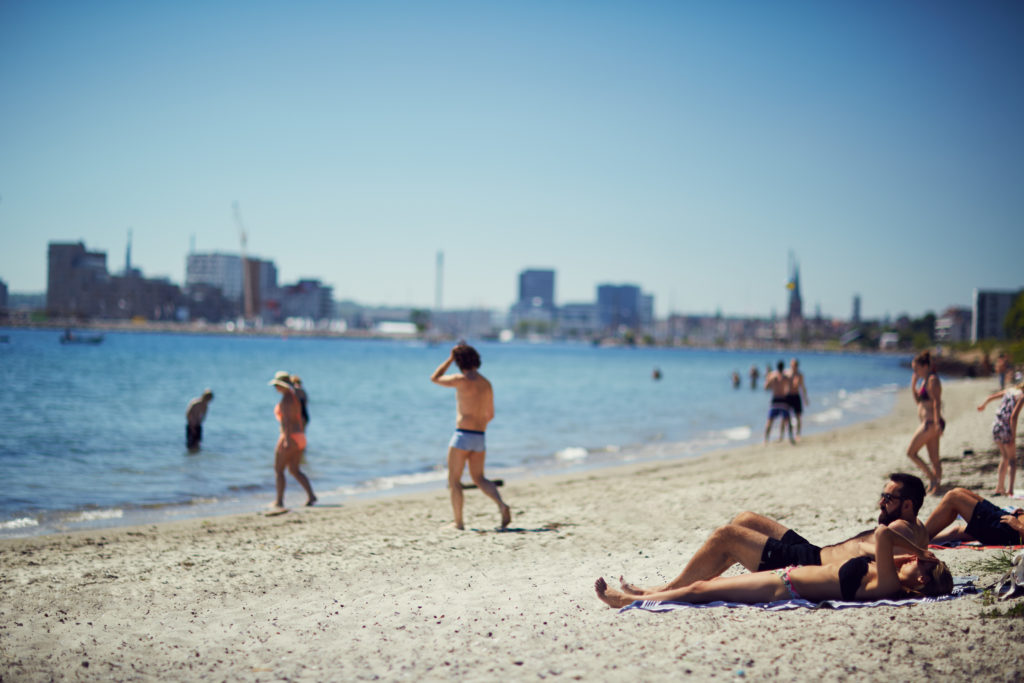 Den Permanente (The Permanent One)
Only 2,5 kilometers from the center of the city, you'll find one of the best (and popular!) beaches. It's called The Permanent One because… well, it's always there. Bike or walk along the coast to the beach.
Marselisborg Forests
We like to think that we have everything – both city life and nature. And actually, Aarhus is surrounded by forest and sea. South of Aarhus, a forest belt stretches 7 kilometers along the coast. In the northern part of the forests, near the city, you will find Marselisborg Palace – our Queen's summer residence. In Marselisborg Deer Park, you can get really close to the deers and feed them their favorites: carrots and apples. You can also see wild boars (but only from a distance, luckily). The forests stretch all the way down to Moesgaard Forest and Moesgaard Museum.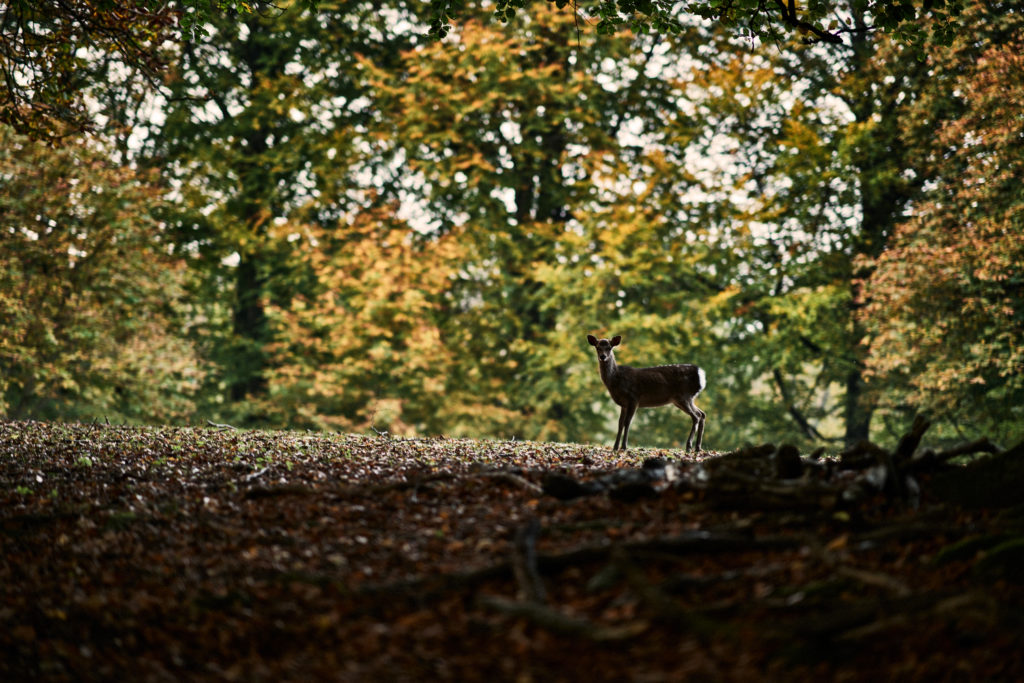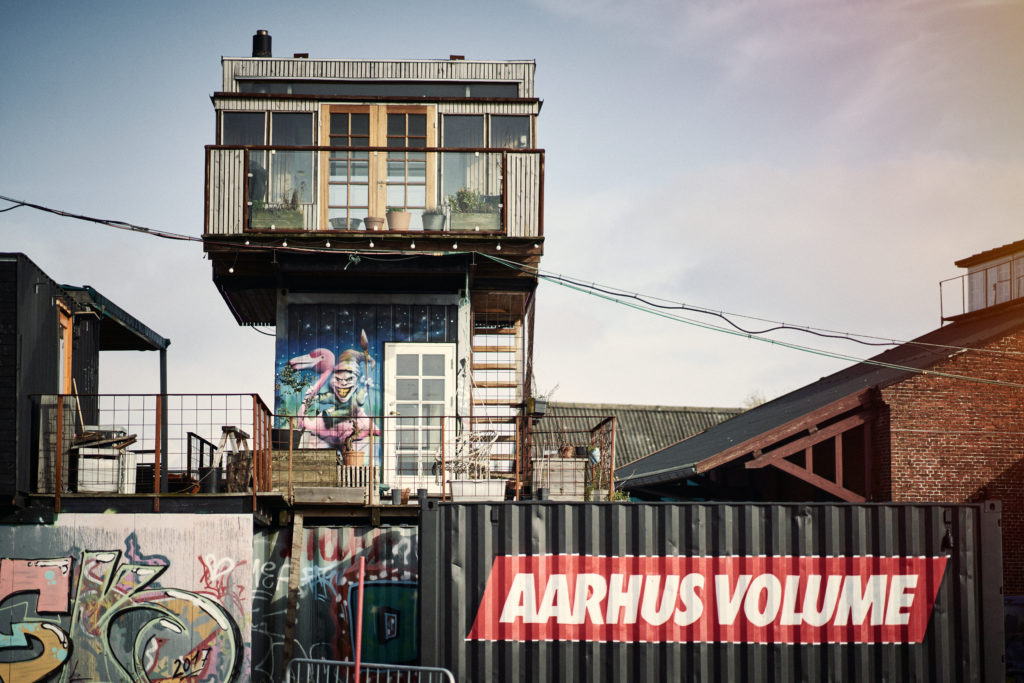 Godsbanen (The Goods Station)
This former goods station and the sidetracks next to it were in use from 1923 to 2000 – now, it is a cultural center. The rebuilding of some of the old warehouses has created a culture house for theatre, music, film, workshops, and festivals. This is a place for cool kids – and everyone else.
The Salling Rooftop
Almost as old as Aarhus is Salling – a department store located in the city center. In 2007, two floors were added on top, and Aarhus got itself a large rooftop terrace. It's an urban oasis with a café, a bar, lounge areas and a stage for concerts and talks. Enjoy the 360-degree view of the city (including Hotel Atlantic, of course) and step out on the glass platform and look directly down at the shopping street – 25 meters below!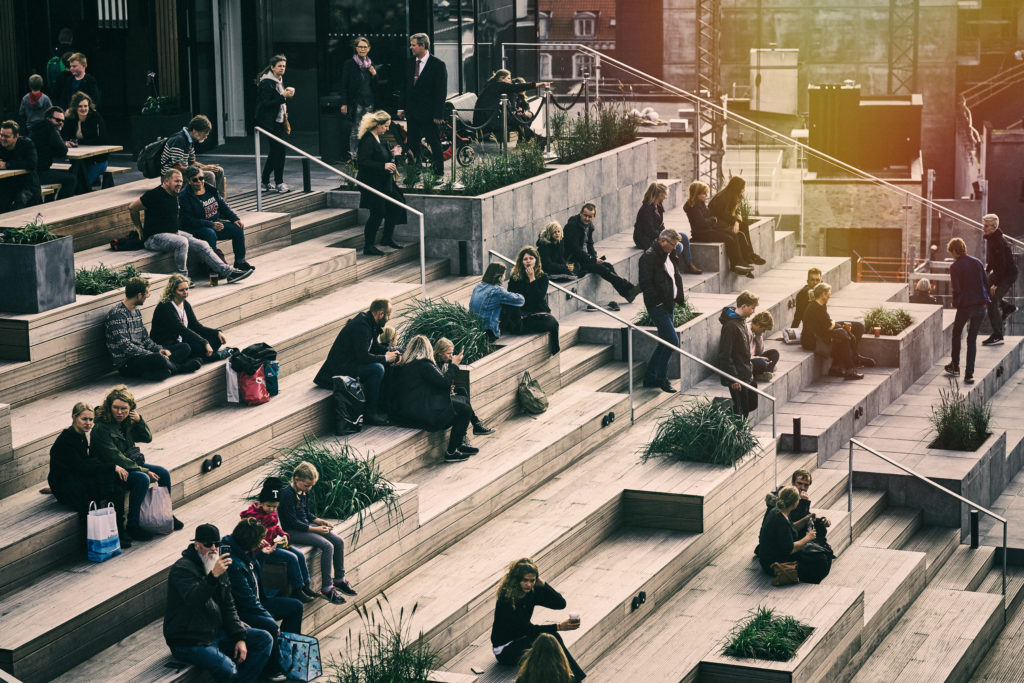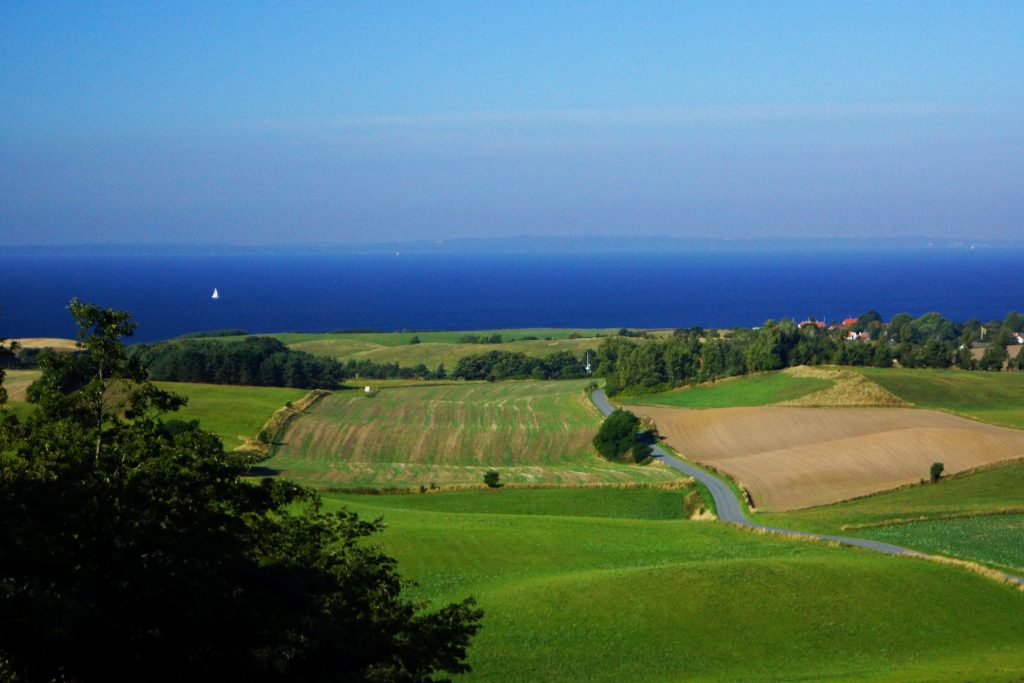 Mols Bjerge (Mols Mountains)
A protected area measuring 180 square km2 where more than half of all wild species I Denmark can be found – so if you're into nature, this is just it! The area has a widely varying topography consisting of heath, forests, wetland, meadows, and beaches (when we say "Mountains", we just mean the highest point being 139 meters…). Even though it is a protected area, about 80% is under private ownership (so remember that you can't go exactly everywhere).
Vestergade
The well-known Danish rock group Gnags once wrote a well-know song called "Slingrer ned ad Vestergade" ("Strolling down West Street"). But this isn't the only reason why this street and the surrounding areas are so popular! The street has been here since the 18th century and have some beautifully maintained shop fronts. You will definitely feel that "Je ne sais quoi".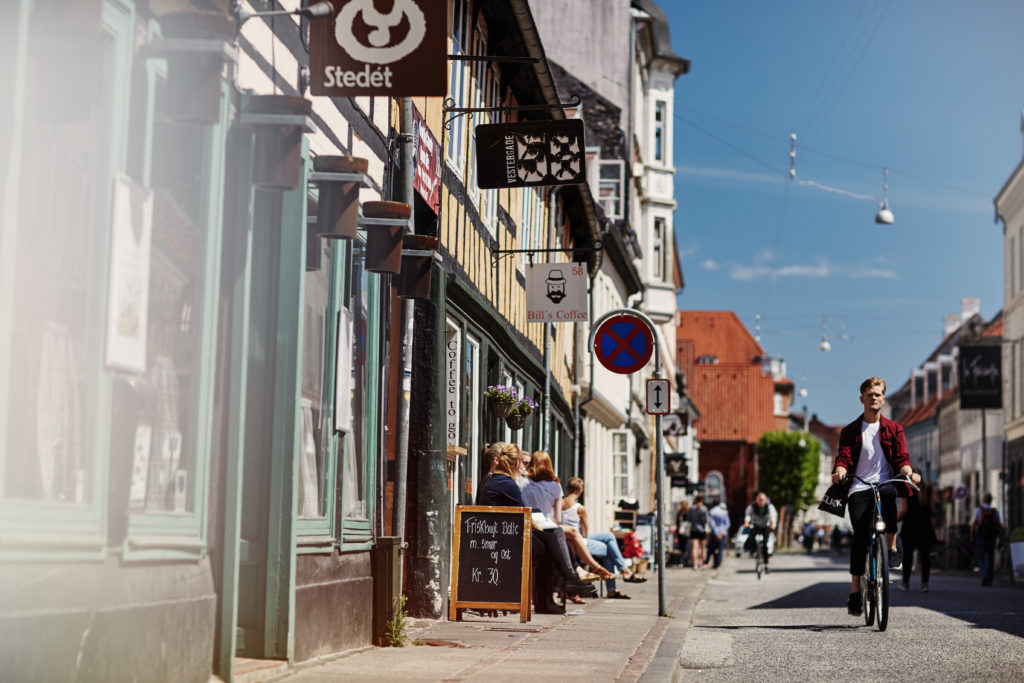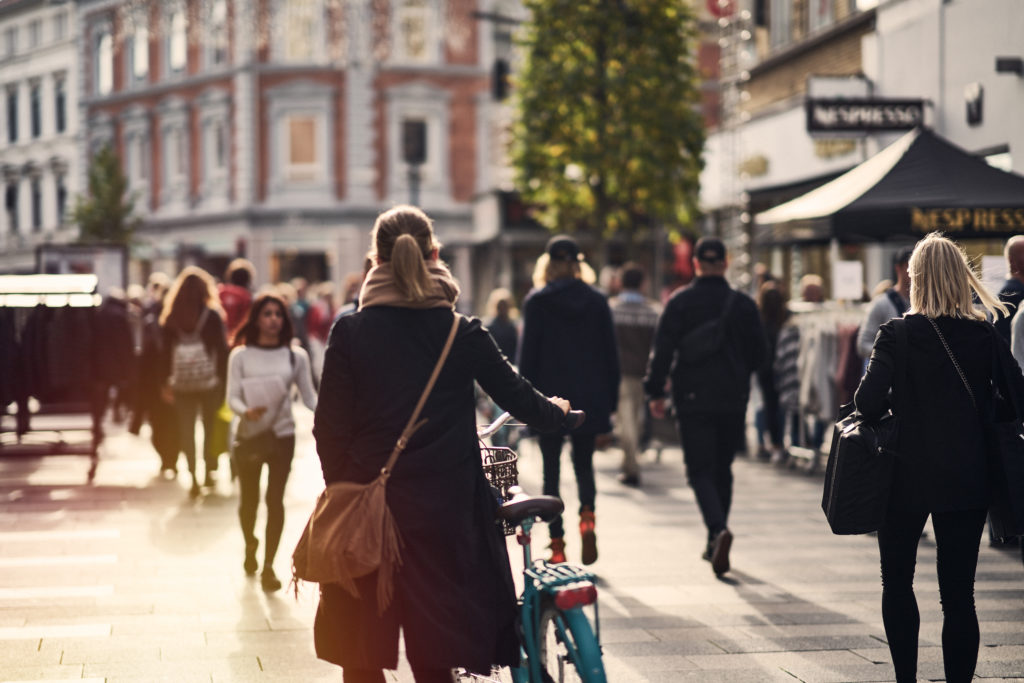 Shopping
Yes, we consider ourselves shopping experts – Aarhus has everything. On the main street, you'll find high street shops, department stores and well-known brands. The Latin Quarter, Mejlgade and Vestergade are the places to go if you are looking for something more unique, modern or (let's be honest) crazy. 
Most shops are open Monday to Thursday from 10 AM to 6 PM, Friday from 10 AM to 7 PM, and Saturday from 10 AM to 5 PM. Also, most shops are open the first Sunday of the month from 11 AM to 4 PM. 
The Harbor Bath
Our very popular harbor bath is designed by the world-famous Danish architect Bjarke Ingels Group BIG. It is located in Aarhus' new neighborhood, Aarhus Ø, and features a rectangular swimming pool, a circular diving pool, children's pools and an elevated plan walkway that allows you to overlook the water below. Relax, swim, observe people discreetly from behind your sunglasses. 
In July and August, the Harbor Bath is open every day from 10 AM to 6 PM with lifeguards present in the opening hours.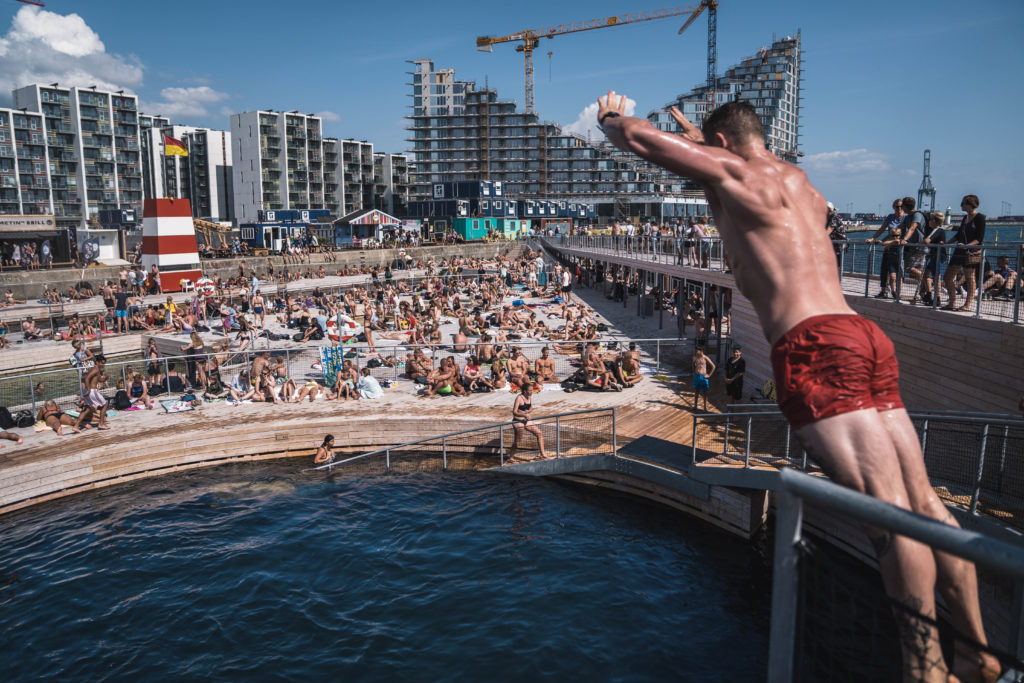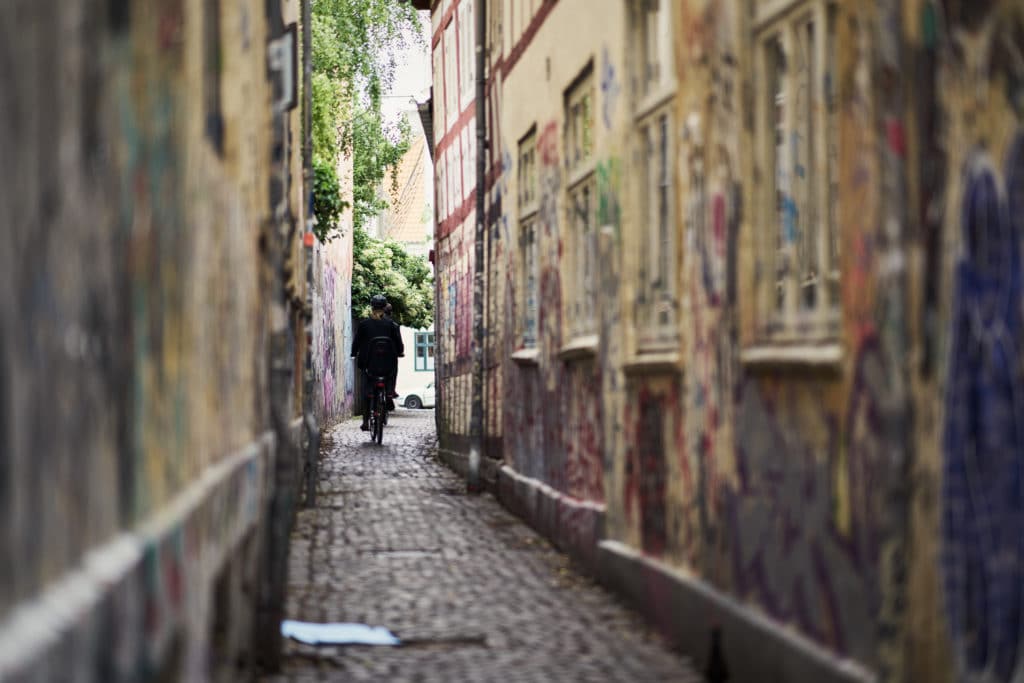 Mejlgade
As a part of the Latin Quarter, this 800-meter-long street is one of the oldest in Aarhus. Characteristic for Mejlgade is the large number of hidden courtyards behind the buildings. Back in the old days, they were used as stables and home for the many craftsmen and merchants. Today, this street is where you'll find lots of hip bars, cafés, restaurants, delis and trendy and unique shops.
Wonder why the course of the street is so curved? That's because it originally followed the old coastline!
Den Gamle By (The Old Town)
This is not just a part of town that we didn't bother to renovate… On the contrary, this is one of the most popular attractions in Aarhus – an open-air museum of urban history and culture. More than 75 historical buildings have been collected from different Danish townships and rebuilt here. You will see history come to life: Meet and talk to people dressed, working and behaving just like they did in the old days, or visit the old-style pharmacy, post office or just ordinary homes – from the 19th century up to the 1970's.